Genre: Fantasy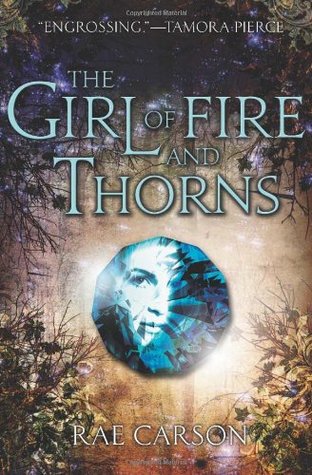 Style: Magical and Exciting
Recommended: 12-17
Other: First in Fire and Thorns Trilogy
I really liked this book. I was in much need of a gripping, exciting fantasy novel combining adventure, magic and romance and this is exactly the book I got. This book is both fast pace and painfully slow (but in a good way). I read this book in just two days and the plot and characters kept me constantly entertained and interested. The thing with this book is that it is exactly how I described and really is a fantasy which is exactly the type of book I was in the mood to read but if you are looking for something with a bit of humor and constantly on edge emotions then this book isn't like that. There is however a constant tug on your heart regarding the main male characters and their interaction with the main female character, Elisa, which is one of the aspects of this book which I particularly enjoyed. This book is suitable for any age really including older teens (I'm 16 and I love it!) It really just depends on your preference of genre.
Blurb:
Once a century, one person is chosen for greatness.
Elisa is the chosen one.
But she is also the younger of two princesses, the one who has never done anything remarkable. She can't see how she ever will.
Now, on her sixteenth birthday, she has become the secret wife of a handsome and worldly king—a king whose country is in turmoil. A king who needs the chosen one, not a failure of a princess.
And he's not the only one who seeks her. Savage enemies seething with dark magic are hunting her. A daring, determined revolutionary thinks she could be his people's savior. And he looks at her in a way that no man has ever looked at her before. Soon it is not just her life, but her very heart that is at stake.
Elisa could be everything to those who need her most. If the prophecy is fulfilled. If she finds the power deep within herself. If she doesn't die young.
Most of the chosen do.
Other books in the Fire and Thorns Trilogy:
The Girl of Fire and Thorns Stories (#0.5, #0.6, #0.7)
The Girl of Fire and Thorns (#1)
The Crown of Embers (#2)
The Bitter Kingdom (#3)